Every day, we receive at least one mail, saying "which is the best cheap elliptical machine?" Finally, we have decided to make this list of top 10 cheap elliptical trainers. Here, we only have the ellipticals with a list price under $200 (excluding shipping cost, some online stores do offer free shipping for these products where you can save a few buck.).
Before swiping your card, it's very important that you consider features, built quality, capacity, assembly and customer support. For example, if you are over 6 feet tall or weigh more than 300 lbs, none of the ellipticals listed below will be suitable for you.
Magnetic Elliptical Machines
There are only a couple of magnetic elliptical machines available under $200. Magnetic Ellipticals are smoother and quieter than chain drive ellipticals. They also last longer as you don't have to worry about any chains. We always suggest buying magnetic ellipticals, as they are way better than their alternatives.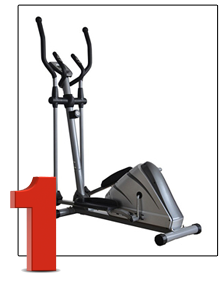 Exerpeutic 1000Xl Elliptical
Don't underestimate the 1000XI for being in this list. This trainer is so good, that its also in our list of top 10 elliptical under $400. The main selling feature of this trainer is magnetic resistance. The heart rate monitor is just a gimmick, but even if you are tight on budget, we would request you to look closely into this model.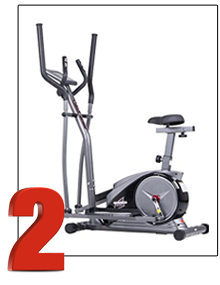 Body Champ BRM3780 2-in-1 Cardio Dual Trainer
This is slightly more than the USD 200 mark, but we are still listing it as our second best elliptical under $200 because the extra few bucks are worth it. The BRM3780 has 17 pre-set program, you can save your workout and the build quality is best among all other elliptical listed here.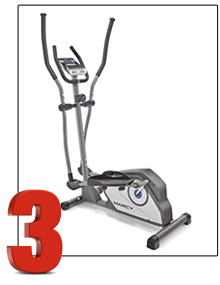 Marcy Magnetic Elliptical Trainer NS-40501E
This is the cheapest magnetic elliptical trainer with a decent build quality. Even though its compact, the size is larger than the Sunny Health elliptical and is quite comfortable to use. Marcy removed the touch heart rate sensor to cut down cost. The display is intuitive and has slot to store your phone/tablet.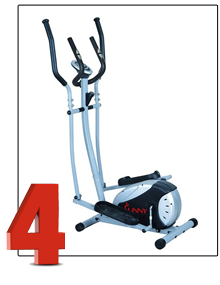 Sunny Magnetic Elliptical Trainer
This trainer became so popular that Sunny health decided to make this in various colors. This trainer is very popular among ladies who are looking for a home elliptical trainer. It's easy to assemble, easy to move and give good mini exercise session. This trainer will not be comfortable for large/tall users.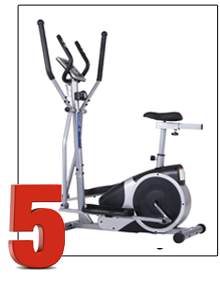 Body Champ BRM2720
This elliptical is gaining popularity very fast. This is the only 2-in-1 magnetic machine in this price range. The adjustable seats allow it to fit perfectly for your need. There are additional stationary handle bars which come with heart rate sensors. The built quality of this trainer is not as good as the Exerpeutic 1000Xl. Many users have already complained that this machine squeaks and wobbles if not assembled correctly.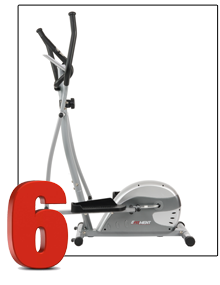 EFITMENT E005 Elliptical Machine Trainer
EFITMENT's main design goal of this elliptical was to fit it in tight spaces. If you are looking for a cheap compact elliptical for your home and don't mind the short stride length this is the perfect elliptical for you. Its stride length is 11 inch and maximum user capacity is 220 lbs, meaning, if you are more than 5 feet 6 inch, you should look into Exerpeutic 1000Xl or Body Champ BRM3780.
Non-Magnetic Elliptical Machines
All most all the ellipticals under $150 are non-magnetic chain driven. Over time they tend to wobble and make some noise (mostly because of the chain system). Though we discourage buying non-magnetic ellipticals, if you are tight on the budget there are plenty of good one available in the market: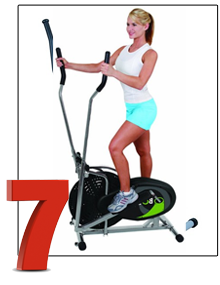 Body Rider Fan Elliptical Trainer
Even though, BodyMax says "Chain-driven fan resistance is smooth" in reality if you have ever used a magnetic elliptical; you are going to hate this. If, low impact cardio exercise is your primary target; buy this trainer and a good quality heart rate monitor watch. Workout in your HR zone; and you should see the positive result in a very short time. Just don't expect this trainer to last a long time.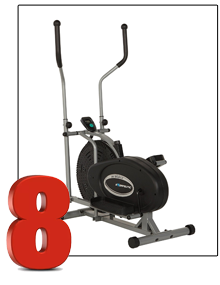 Exerpeutic Aero Air Elliptical
This trainer is noisy, shaky but you will forget about everything when you see the price tag. If you want full body elliptical exercise for under $100, and don't mind a little noise, this is your machine.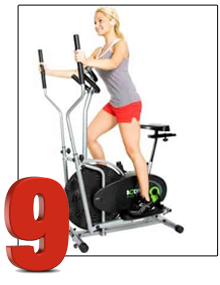 Body Rider BRD2000 Elliptical Trainer
This is another popular inexpensive elliptical machine. But there are a lot of negative reviews for this model. Please always remember a good trainer costs at least double or triple. So, you need to make some realistic expectation from this BRD2000. You cannot work out four times a week 1 hours per session and expect this to last for one year. This is true for almost all of the machines on this list. If you are on budget; give this trainer some serious consideration (or check the BRM3671)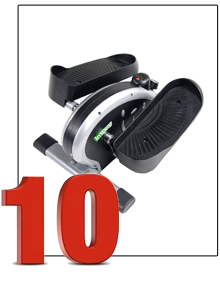 Stamina In-Motion Elliptical Trainer
Apart from being the cheapest, this is the most basic, compact yet effective elliptical in the market. This noiseless machine is very easy to assemble. If you are new to elliptical training, you can try this model. But if you are used to the elliptical motion, you will find it quite uncomfortable as the stride movement are not same as a standard elliptical trainer.
Core difference between cheap and premium Ellipticals.
| | Cheap Ellipticals | Premium Ellipticals |
| --- | --- | --- |
| Resistance | Most of them are non-magnetic | All of them has a magnetic drive system |
| Heart rate Monitor | comes with inaccurate touch based HRM sensors | comes with more accurate heart rate monitors |
| Durability | May wobble | Very Durable |
| Noise | Makes a quite a lot of noise because of the drive system | Makes very little noise |
| Stide Size | Mostly comes with under 14″ stride | Comes with various sizes of stride(small, long, adjustable) |
| Capacity | max capacity is 300lbs | Has maximum capacity of 450lbs |
| Workout Program | None of the cheap ellipticals are programmable | Most of the ellipticals over $600 are programmable |
| Country of Origin | Mostly made in China | Made in USA, Canada, Germany, China |
| Console Accuracy | calorie tracker is inaccurate and will break in a few weeks | speed, calorie tracker are quite accurate |
| Incline | Incline is not available | From $600 price range, Manual and Autoatic Incline is available |
Magnetic Elliptical between $80- $200
Model
Our Choice
Exerpeutic 1000XL Heavy Duty Magnetic Elliptical
Sunny Health & Fitness P8300 Pink Magnetic Elliptical Trainer Elliptical Machine w/LCD Monitor
Stamina InMotion E1000 Compact Strider
Best Entry Level Elliptical
Resistance
8 level magnetic resistance
8 level magnetic resistance
Adjustable (dial) Resistance
Our Choice
Model
Exerpeutic 1000XL Heavy Duty Magnetic Elliptical
Best Entry Level Elliptical
Resistance
8 level magnetic resistance
Model
Sunny Health & Fitness P8300 Pink Magnetic Elliptical Trainer Elliptical Machine w/LCD Monitor
Resistance
8 level magnetic resistance
Model
Stamina InMotion E1000 Compact Strider
Resistance
Adjustable (dial) Resistance
Chain Driven Elliptical between $80 – $150
Model
Body Rider Fan Elliptical Trainer
Resistance
Adjustable (dial) Resistance
Adjustable (dial) Resistance
Adjustable (dial) Resistance
Resistance
Adjustable (dial) Resistance
Model
Body Rider Fan Elliptical Trainer
Resistance
Adjustable (dial) Resistance
Resistance
Adjustable (dial) Resistance
How to get the most out of Cheap Elliptical Machines
Look for Magnetic System. Most inexpensive ellipticals come with a chain system instead of a magnetic system; that's why they make a lot of sounds. There is no way around this one; we suggest you shop a elliptical with magnetic resistance.
Make your programs. With programmable ellipticals you will just select a program and the machine will automatically change its resistance and inclin ; wherein cheaper trainers you will have to adjust the resistance yourself to get the best workout. You can follow our elliptical workout routine to get the most out of your trainer
Accessories. you can buy some accessories to get more our of your elliptical machine.
(1) Heart Rate Monitor
Elliptical with wireless heart rate monitors starts from a price range of $400+. Some of these cheap elliptical machines do come with contact (touch) heart rate sensors, but they are very inaccurate. Plus while working out, it's difficult to keep your thumb always on top of that sensor. If you are buying elliptical trainers, we strongly suggest you invest $70-100 more on a heart rate monitor. Here is our list of top 5 HRM under $70. You can use a heart rate monitors on any other types of cardio exercise, and they are very accurate. To get the most out of your trainer you don't need a fancy HRM with GPS tracker or motion sensor (your phone can do that); all you need is a functional HRM that shows your current cardio zones.
(2) Floor Mat
No matter which under $200 elliptical machine you choose, all of them will make some noise over time. It's mainly because of the vibration of the machine with the floor. You can get a Rubber floor mat, and that will be a soft protection layer between your fitness machine and the floor. These types of Mats reduce noise and vibration, provides abrasion, impact protection, and shock absorption; causing a more silent exercise session.